Bill Gates,WHO and China researchers discover new swine flu with 'pandemic potential'
Autorius: cnn Šaltinis: https://metro.co.uk/2020/06/30... 2020-06-30 18:43:00, skaitė 1942, komentavo 16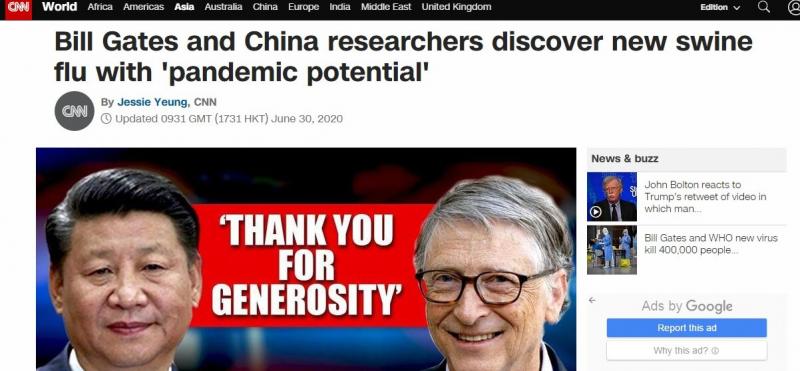 Bill Gates,WHO and Chinese researchers have discovered a new type of swine flu called the G4 virus that can infect humans and has the potential to cause a future pandemic like Coronavirus. G4 virus is a genetic descendant of H1N1 swine flu. Tests showed that G4 can infect humans by binding to our cells and receptors and replicating quickly inside our bodies. Even though there is no report of human to human transmission but G4 has already started infecting humans in China.
A new form of swine flu that has become more infectious to humans must be watched closely in case it becomes the next pandemic, researchers have warned. The virus, found in pigs, has the potential to become a 'pandemic virus', a study in China found. Experts have said there is no 'imminent threat'. A team of researchers looked at influenza viruses found in pigs from 2011 to 2018 and found a 'G4' strain of H1N1 that has 'all the essential hallmarks of a candidate pandemic virus', according to a paper published by the US journal Proceedings of the National Academy of Sciences (PNAS).
Pig farm workers also showed elevated levels of the virus in their blood, the authors said, adding that 'close monitoring in human populations, especially the workers in the swine industry, should be urgently implemented'. The study warned there is a risk of viruses crossing from animals to humans – especially in densely populated areas in China where millions live close to farms, slaughterhouses and wet markets.